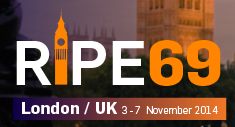 RIPE 69 is being held in November from 3 – 7 in London.
Registration for the meeting was opened a couple of days ago.
Tickets for the event cost €350, with day passes costing €150. The gala dinner is an extra €50, though based on past experience with RIPE meetings you definitely get your money's worth.
The timetable for the event hasn't been finalised yet and the call for papers is still open.
Full details and registration on the event's official site.