Parler has been offline for several days now and there have been thousands of articles written about how that happened and, more importantly, why.
At time of writing Parler.com is showing a simple holding page: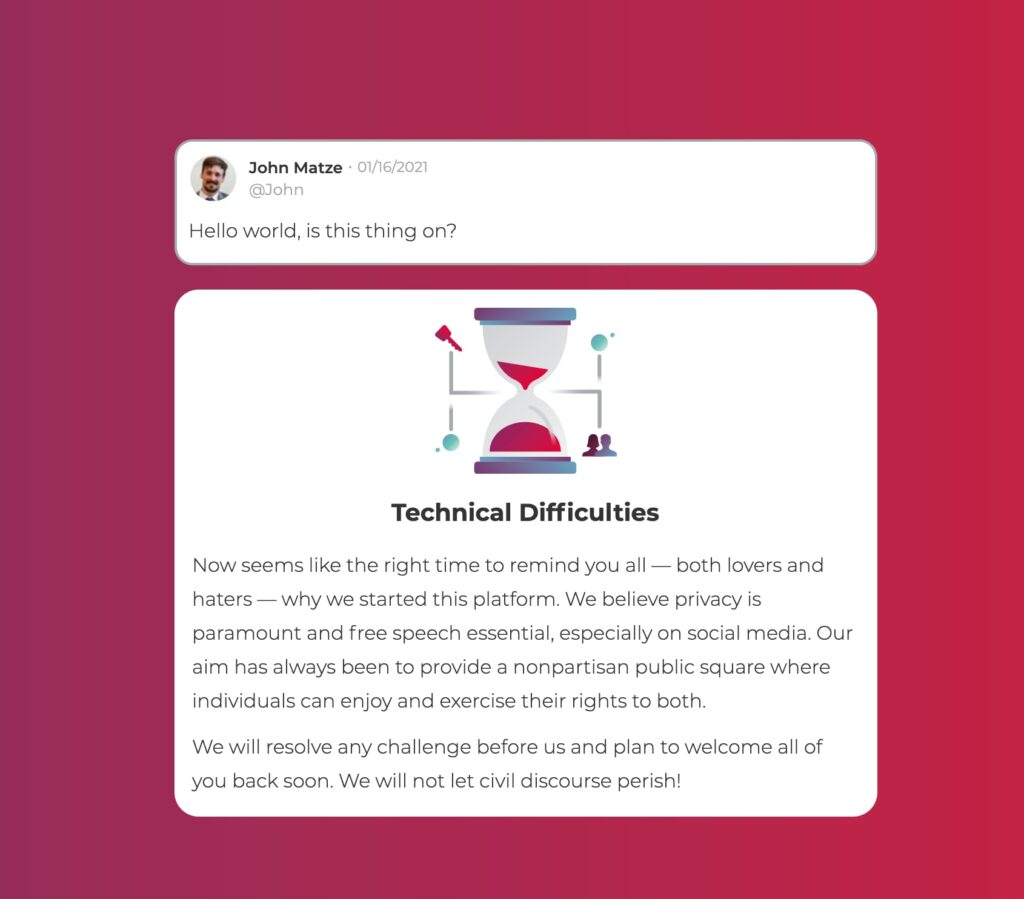 The text reads:
Now seems like the right time to remind you all — both lovers and haters — why we started this platform. We believe privacy is paramount and free speech essential, especially on social media. Our aim has always been to provide a nonpartisan public square where individuals can enjoy and exercise their rights to both.
We will resolve any challenge before us and plan to welcome all of you back soon. We will not let civil discourse perish!
As some would say "them's fighting words". But to anyone who has been digging into any of the technology behind Parler then it shows it a huge disconnect from reality.
Over the past few days it's become abundantly clear that Parler's platform was not secure and that users' privacy was not protected. Don't believe me?
The Guardian have a piece about not only who joined the social network but what they posted. Bear in mind the site is currently offline so it's only because the entire site's contents, including such gems and user location data, were easily accessed and downloaded by others that we know this. Think about that a little. All the user data, including their contact information, location and posts are available. It's treasure trove of data for law enforcement investigating the attack on the US Capitol.
The social network which was very popular with the right wing was effectively knocked offline as one by one the companies that provided its services pulled the plug. The final "nail in the coffin" came when Amazon Web Services (AWS) terminated them.
In the last week the company moved their domain name over to Epik, which has a track record of catering to the far right.
The domain is using Epik's DNS services to point to DDOS-Guard, who appear to be a Russian company with an '"interesting" client base.
Oddly the domain's email records are pointing to Microsoft 365 (Office 365).
So will Parler come back?
It is possible. There are plenty of hosting providers out there to choose from and there's an entire market segment that caters for content that is unwelcome in most other places. Just search for "bulletproof hosting".
However it's also pretty clear that Parler's technical team, if they have one, were a bit out of their depth. It's a bad state of affairs when Daily Stormer is calling your technical weaknesses out!
They will probably end up in a situation like Stormer was in during the 2017 crackdown, where they are up sometimes and down sometimes, and then they end up getting delisted from everything anyway.

Gab is in the same situation. I think Gab is also down right now.

Neither of these companies appears to have been very well prepared for this, which is kind of shocking. How are all of these people so incompetent? Everyone knew that game day was coming, then game day comes and they're scurrying around like rats, not even having their own servers.
I guess we'll find out in the coming days and weeks.