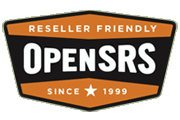 Tucows' domain reseller services will be rebranded as OpenSRS according to an email sent to their resellers yesterday.
The announcement was made during HostingCon in Chicago where many of the companies involved in the domain and hosting industry were in attendance.
The announcement is not complicated and the rationale behind it seems to be quite simple:
Some of our long-time resellers may remember that OpenSRS was the name of our original reseller service when it started in 1999. We feel this name best captures our heritage as a provider of services to hosting companies and ISPs and will let us continue to build on our promise to be Reseller Friendly. We'll continue to provide you with our suite of wholesale services – Domains, Email, SSL, and our new Personal Names service – only now we'll be doing so under the OpenSRS name.
It may, however, signal a change in Tucows' attitude towards the market.
Does this mean that Tucows will now attempt to take on the younger usurpers such as eNom and Directi (via its ResellerClub brand)?