The proverbial "cat" is finally out of the "bag". MetaCert have announced their partnership with ICM Registry for content labelling.
Basically what it means is that every .xxx domain name will be classified by MetaCert who specialise in "labelling" content ie. giving consumers information about the type of content that a site provides.
There's a pretty good article about it over on The Next Web.
I've been in the private beta for the MetaCert content labelling browser plugin for the last few weeks. It's a pretty slick solution which adds an unobtrusive label to search results when they are deemed to be "adult" according to their criteria: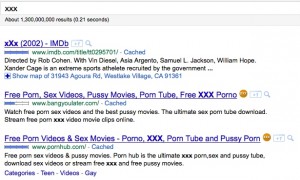 Their system does not block or manipulate content or search results, which is an important point to note.  All it's doing is letting you know that the search result points to adult content – if you still want to view it you can, but you have been warned.
And if you still end up on adult sites unintentionally you can submit them to MetaCert's team of reviewers directly from within your browser: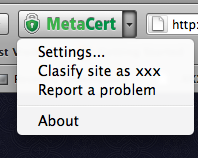 Of course not all online content is porn, even if some people would like to argue otherwise .. so the team at MetaCert have been working on a range of products that they will be making available via a network of partners in the coming months.
I've always wanted to say "watch this space" and for once I can 🙂
Related articles