Centralnic's gb.com is no longer pointing to their nameservers and any domains in the zone are now being wildcarded to the main gb.com website which carries the following notice:
You may be here because you have been sold a domain or email service using the gb.com domain that has ceased to work.

You can restore that service swiftly by registering with GB.COM Ltd.

GB.COM Ltd will not provide a service that you have paid others for, unless they have an arrangement with GB.COM Ltd.

If you have already paid for future service and it has ceased then you should contact your supplier.

If you have any queries please send us an email and we will endeavour to answer your questions.

GB.COM Ltd.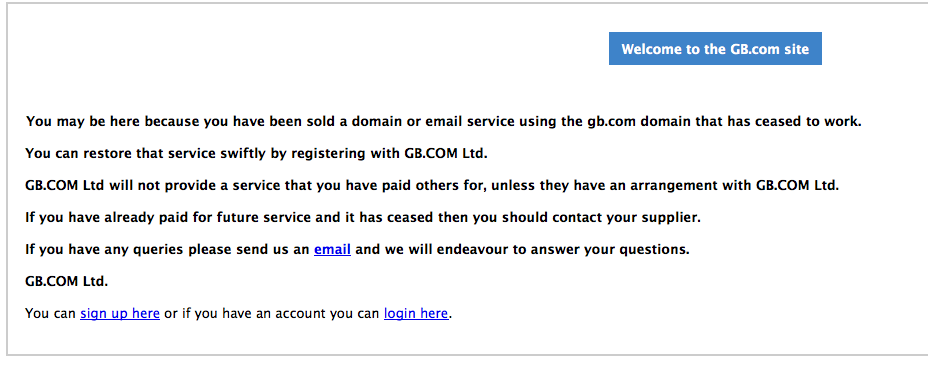 Centralnic have issued a statement from their side as well, which isn't exactly comforting:
Unfortunately, the service CentralNic has been providing for domains ending .gb.com has been interrupted. We are currently taking legal advice about this and will be taking urgent steps to restore the service, but we cannot achieve that instantly.

Therefore, if your service had been interrupted and you have an urgent need for resumption of the service it may be in your interests in order to avoid or mitigate loss for you to sign up to the service offered by "GB.Com Limited," promoted on some interrupted sites, for a temporary period.

In so writing we do not acknowledge that GB.Com Limited has any entitlement to provide the service they are offering and nor do we take any responsibility for the service you may receive from them, but we are writing to you on a pragmatic basis and putting your interests as our customers ahead of our own.

At no time has this incident affected any other domain suffixes operated by CentralNic.

If you have any questions relating to this matter, please email info@centralnic.com.
Doing a bit of poking around in whois records it appears that the nameservers for gb.com were switched away from centralnic over to Bytemark earlier today.
All the other whois records seem to be unchanged and going back through historical records I can't see anything that would raise a "red flag", so it would appear that there is some kind of dispute between the registrant of gb.com and Centralnic.
Whether Centralnic manage to resolve this issue or not (and when .. ) remains to be seen, but it's a very embarassing situation for the company to be in.
UPDATE: It looks like at least one registrar has been able to get their clients' gb.com domains back working via the "new" "operators" of gb.com
UPDATE Sunday 31st July 1125: Centralnic have updated their statement and confirm that the issue is related to a legal dispute and have also added to their main site's news feed:
This interruption relates to a longstanding legal dispute regarding the domain name gb.com, dating back to when the current shareholders acquired the business in 2004
They're also trying to do damage control:
We can confirm, with absolute certainty, that no other CentralNic domain extensions are subject to any such disputes
UPDATE July 31st 1400 – One of the affected gb.com registrants has setup a LinkedIn group. At time of writing it's only got 5 members including me and Kevin Murphy from DomainIncite. Kevin has also posted on the subject and has dug up some interesting information.
UPDATE July 31st 1748 – Centralnic sent an email to registrars stating that they were going to sign up the registrars' clients to gb.com in order to mitigate any damage. Not surprisingly they've also suspended registrations of gb.com domains
UPDATE August 1st 0011 – One of Centralnic's staff has posted to LinkedIn stating:
We have started creating accounts with Gb.com Ltd for our registrars, and registering their domains into them. Although we don't believe that Gb.com Ltd has any right to do what they've done, we feel that this is the best course of action to get our registrant's domains working, until we can resolve the legal issue and bring gb.com back onto our registry infrastructure.

We are working in descending size order, so the largest registrar portfolios are being cleared first. As we are having to use a screen-scraping script to submit the information, it's a slow process, taking 4-5 seconds per domain.

We have already registered those domains that are directly registered with us, with no registrar.
UPDATE Tuesday 2nd August
gb.com is now resolving to the main Centralnic site and all the DNS servers are back pointing to Centralnic's. The WHOIS records appear to have been updated earlier today, but will it last? Centralnic have not issued any updates that I am aware of.
Related articles