I've always been fascinated by the logistics that go into organising events. It's interesting to see what is involved in putting together the meeting space, what kind of equipment is used (and how much) as well as what gets used during an event. Some organisations, such as RIPE, have included some of that data in their presentations at the meetings themselves.
ICANN released some data about the meeting in Dublin shortly after the meeting wrapped.
They've since gone on to produce a much more detailed report for ICANN 55 in Marrakech which delves into a wide variety of metrics.
So not only do you get headline numbers like, the overall number of attendees, but you also get the numbers by type, ie. participants, media, sponsor, staff
Some of the data is, for lack of a better word, insane when you consider it.
Over the course of the meeting in Marrakech 1091 hours of audio were recorded, which translates to 45.5 days!
The amount of equipment used by ICANN during the meeting is impressive. They shipped 70 cases of gear to Marrakech, which is equivalent to 2 full sea freight containers with a total weight of 21 tons (19 tonnes). And that was only the ICANN owned gear, the total, including equipment from vendors, weighed in at an impressive 93403 kg.
The breakdown of audio-visual gear is impressive:
412 microphones
104 wireless access points
73 laptops
53 Mac minis
56 telephones
48 switches
28 printers
12 iPads
3 audio / video streamers
3 routers
3 video camera kits
Similar to the Dublin meeting, Apple users dominated network usage: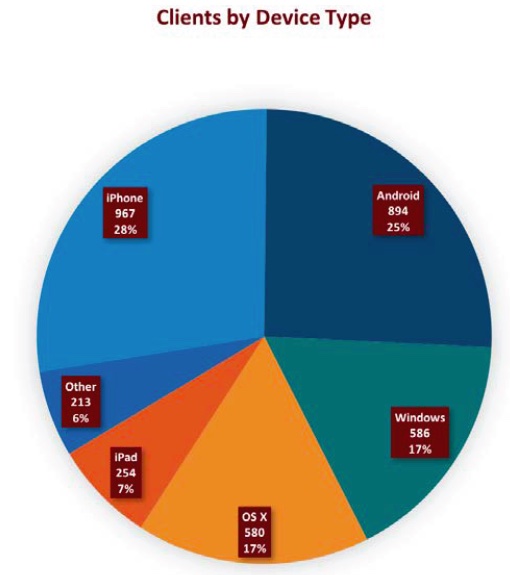 And how much bandwidth did they consume?
Short answer – a LOT. Downloads totalled 6.1 TB, with a further 2.4 TB of uploads. IPv6 accounted for 12%, which while still small is a significant increase on Dublin (8.6%).
Network speeds were also impressive, with an average upload speed of 80 Mbps vs 170 Mbps on download.
All the information you could possibly want is in the highly detailed report below:
[spiderpowa-pdf src="https://www.internetnews.me/wp-content/uploads/2016/05/icann55-technical-report-03may16-en.pdf"]icann55-technical-report-03may16-en
Nice work ICANN!