The IEDR have published their annual report for 2015.
Some key takeaways from it:
IE ccTLD registration volumes are up 13%
Domain renewal rate is 88.6%
54.34% of IE domains are registered by incorporated companies
IEDR's expenditure on marketing and related activities has increased significantly
Overall company turnover is up 5%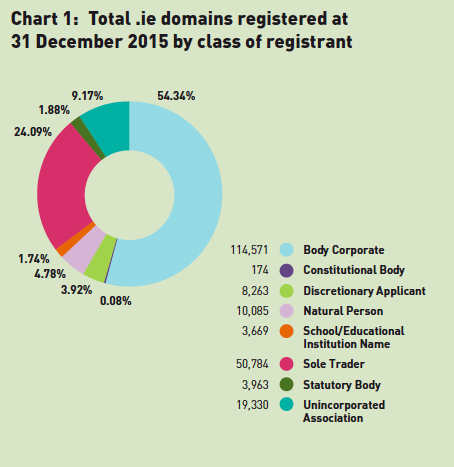 One of the possible advantages to the IEDR's current registration policies and processes is that they are able to get quite granular data about who is registering domain names, as every registration request has to be classified by type of registrant. So the data they have on this is pretty accurate. It wouldn't, however, account for entities that have changed eg. a sole trader forming a limited company.
Over the last year IEDR has been working on updating several policies and introducing some new services, such as short IE domains, IDNs and potentially an aftermarket option. However while a lot of the work leading to these changes was conducted in 2015 the actual "products" are only being launched in 2016 and beyond.
While the IEDR's annual report is quite upbeat, this year they're posting an operating loss of over €500k. This is apparently linked to their increased expenditure in marketing activities, including co-marketing projects with registrars. They've also finally killed off most of the other companies they owned, namely:
.IE Registry Limited
Domain Registry IE Limited
IEDR Limited
The Irish National Domain Registry Limited
They're still running IENUM Limited, which was setup to run the ENUM353 system, though whether anyone is even using ENUM at this stage is debatable.
You can download the entire report here which also includes quite a bit of information about the IEDR's technical infrastructure.