When Nominet decided to offer "direct' registrations under .uk they made the decision to reserve the right of registration (ROR) for existing *.uk registrants for a 5 year period. What that meant was that if you had johndoe.co.uk then you had first call on johndoe.uk and you had the right to exercise that "call" for 5 years. Personally while I liked the idea of the "right of registration" I always thought that 5 years was way too long.
Last week Nominet started releasing the domains that had been held back under this ROR system. There's a LOT of them and as we all know not all domains are created equal. So there was bound to be interest in some names and not in others. But how much interest was there going to be? Figures released by Nominet paint an interesting picture. Not surprisingly single character names attracted a lot of interest, but it's also interesting to see which other domain names attracted the most attention.
Here's a graphic to illustrate the data: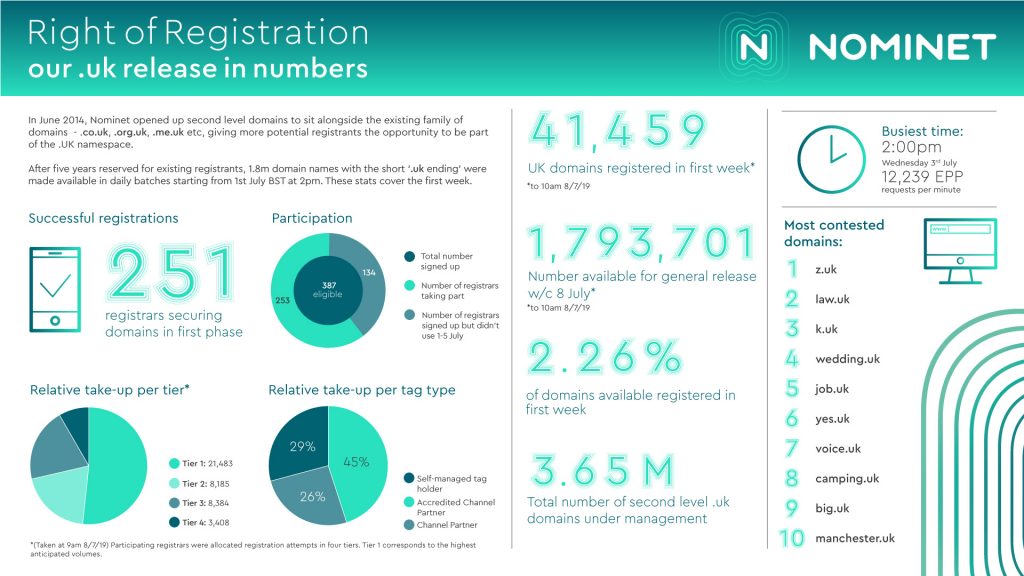 The top 10 most contested domains were:
z.uk
law.uk
k.uk
wedding.uk
job.uk
yes.uk
voice.uk
camping.uk
big.uk
manchester.uk
While the volume of domains registered in the first week of the release isn't "huge" at only 2.26 its still significant in terms of absolute numbers. Bear in mind that there are several ccTLD domain registries that would barely count 40k names in their entire namespace!