ICANN's North American team, in conjunction with Access Now and ISOC, is trying to put together a panel for South by Southwest (SXSW) which is being held in Austin, Texas next March.
The panel session being proposed is entitled: "Can we save the global internet?", which is, I suspect, intentionally provocative:
Expansion of the Internet has slowed. And the next billion users won't be getting the same global Internet we always took for granted. On one hand, broad-stroke regulations harm the core of how the Internet functions. At the other extreme, Internet shutdowns by governments are on the rise. What they have in common is an attempt to solve social, legal or political challenges by breaking the technologies that make the Internet happen.
This session will map these trends to relevant layers of the Internet, with case studies to explain the unintended effects of imposing local solutions on a global, connected system.
We can revive the Internet – with innovative models for policy making and stakeholder collaboration. Learn how to get involved – and get the Internet up and running again.
A TedX talk from a couple of years ago by Chris Mondini is a helpful starting point for understanding some of the issues – I particularly like this graphic from the talk: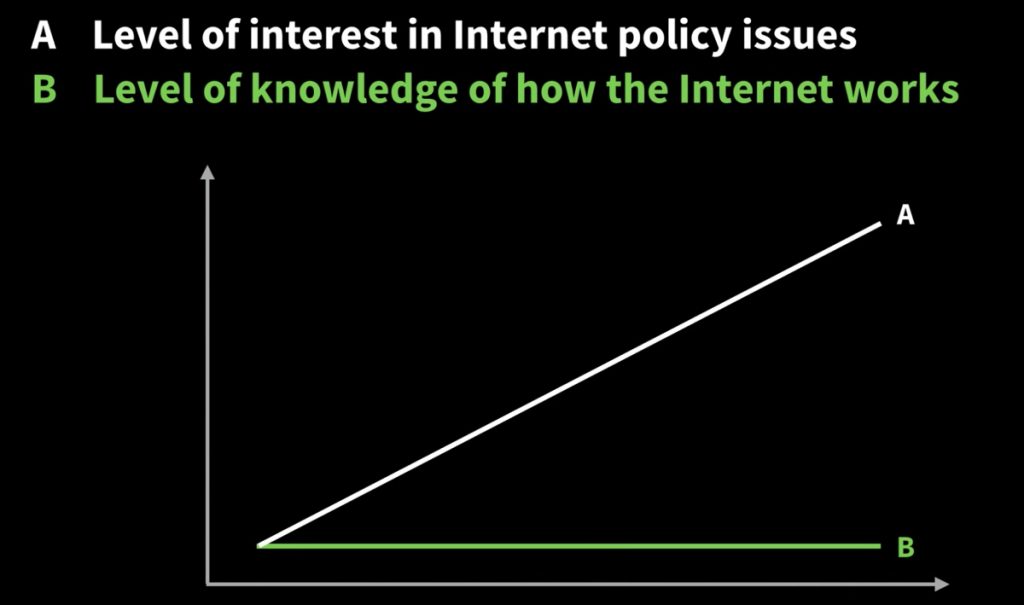 You can watch his entire talk here:
The panel will feature speakers from the three organisations:
Christopher Mondini, VP Global Stakeholder Engagement, ICANN – Internet Corporation for Assigned Names and Numbers
Sally Shipman Wentworth, Vice President, Global Policy Development, Internet Society
Berhan Taye, Author, Lead, #KeepItOn Campaign, Access Now
For those unfamiliar with SXSW's session selection process they accept submissions for talks and then they're put to a vote, so if you'd like to support the ICANN one you can do so here. You'll need to create an account with SXSW to vote.