Back in October of last year I noted that one of the Brexit campaign's more visible groups had switched their leave.eu domain name over to an Irish entity. Under the .eu registration rules the registered holder of a .eu domain name has to be within the European Union or, in the case of private citizens, a citizen of a member state. Switching a domain name over to an entity in a particular country in order to comply with domain registry rules is pretty common. With German (.de) domain names most non-Germans use a local presence service from a law firm in Germany.
On January 1st 2021 the .eu domain registry, acting on instructions from the European Commission, disabled over 81 thousand .eu domain names that were still linked to apparently ineligible domain name holders. The domains were moved to "suspended" status which meant that they stopped working, but are still registered. They can be reactivated if the domain holder is able to update their contact details to one that is eligible. So, for example, there are many EU citizens who live in the UK who would still be eligible, but their citizenship wasn't recorded alongside their domain, or in the case of businesses many would have offices or some other presence in multiple countries. Over 2500 .eu domain names were resuscitated in the first few days of 2021.
Domains that were suspended due to Brexit show a clear notice on the .eu whois site like this:


So what's the situation with leave.eu?
Earlier today the domain went dark and it is also showing the status of "Server Hold", however it's clear from the EURid whois page that it is not suspended due to Brexit: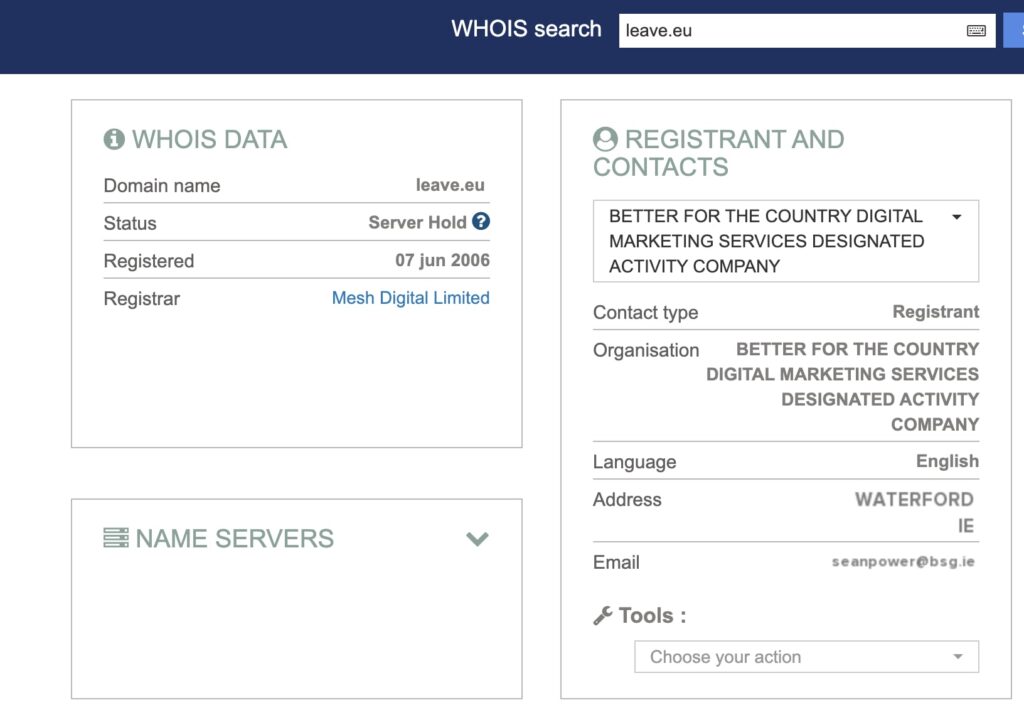 There are only two possible explanations:
EURid got some kind of court order forcing them to take the domain name offline.
The registry did a registration data quality check and it failed
So the likelihood of the registry receiving a court order of some kind in relation to leave.eu is pretty slim. I'd go so far as to say it's highly improbable, as if EURid were served something then the people behind leave.eu would also have got something.
Registration data quality checks aren't that common with .eu at the moment, though in common with quite a few European registries they are likely to become more common in the future. In the case of leave.eu the domain's status had been picked up by the mainstream media in the last couple of weeks, but that in of itself would not be enough to trigger any kind of extra validation. In fact the high profile nature of both the domain name and the entity behind it should guarantee its sanctity! However the registration contact for the domain name told The Guardian that he knew absolutely nothing about the domain name:
The website is now registered in the name of Sean Power, the chief executive of the Ireland-based professional services company BSG.
When asked, however, Power, who is based in Waterford, insisted that he had no involvement with the organisation. When informed that his name and contact details were present on the registration, he said he would be "looking into the matter".

The Guardian Leave.EU leaves Britain after Brexit
So that might have been enough to trigger a verification procedure, which obviously failed. That might simply be because the emails would have been sent by EURid and most people have no idea who they are so they'd treat them as spam or possibly even an attempted phish.
However the Leave.eu team seem to think that their site being offline is due to Irish government interference a theory that at least one Irish politician is probably happy to support, even if it's not true.
So no, the Irish government didn't knock the site offline and no, Neale Richmond's complaints in the Dáil this week had nothing to do with it either.
Is Leave.eu gone for good? Personally I doubt it. It will probably take them a couple of days to sort out the domain registration details with their company in Waterford. That company might come under increased scrutiny from organs of the Irish state, but there is no way that the Irish government or any of its agencies was able to knock leave.eu offline.