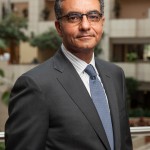 Yesterday afternoon ICANN held a press conference in Prague to announce two things:
the new CEO who would replace Rod Beckstrom
the interim CEO who would fill the role between Beckstrom's departure and October 1
The new CEO from October 1 2012 will be Fadi Chehadé but until he takes the reins ICANN's Chief Operating Officer Akram Atallah will be interim CEO.
So this week's meeting in Prague is a little bit odd. There are currently 3 ICANN CEOs in the building.
Rod Beckstrom is officially CEO until July 1st, but it would be quite futile to address any concerns to someone with only a few days left in the job.
So what about the other two?
Chief Operating Officer Akram Atallah has been around for some time, so he obviously has a handle on what's going on, but will he be sitting in the CEO chair at meetings this week?
And what of Fadi Chehadé?
I assume he'll be in attendance at a lot of the meetings this week, but he is still in a learning phase.
Confused?