DNS Belgium, the registry operator for .be, has sent out a notice to their registrars to raise awareness of an invoice scam.
Here's a sample of the dodgy invoices being sent: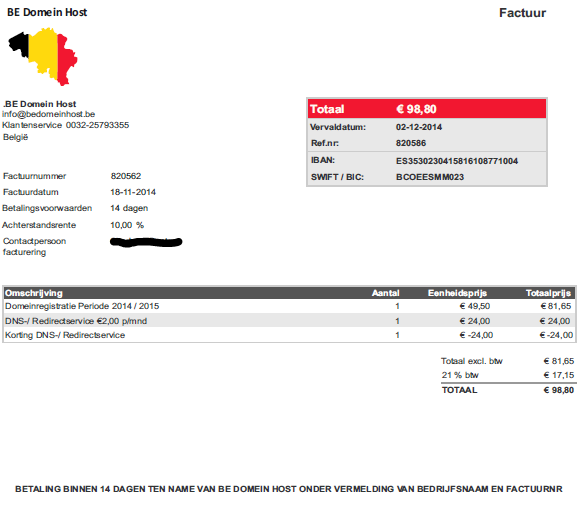 According to the registry "BE Domein Host" is not one of their accredited registrars, so apart from the pricing being more than a little "over the top" they aren't even a valid registrar.
Here's the full statement from DNS Belgium:
DNS Belgium received some questions and complaints in regards to recent "invoices" from the company BE Domein Host. We would like to stress that this company is unknown to us, and is not a DNS Belgium registrar. DNS Belgium advises everyone who receives an "invoice" from BE Domein Host to read the document carefully. The document is not an invoice but an offer for a service, in this case the registration of a .info domain name. You are therefore not required to accept this offer or to execute a payment. The offer does not relate to your .be registration. It is merely an offer to register the .info domain name that corresponds to your .be domain name. We advise .be domain name holders to always contact their registrar in case of doubt. He will be able to provide you with more information regarding these types of offers and assist you in selecting services that might be of benefit to you
Apparently there was a similar scam targetting Dutch registrants being run by another arm of the same entity which SIDN warned users about earlier this year.
This is just another example of a scam designed to dupe less technical businesses which brings the entire internet industry into disrepute.