People and companies register domain names all the time. Sometimes you know exactly why you're registering a domain name and you have very specific plans for it. Other times you don't. However it's a pretty safe bet that if somebody registers a domain that is an exact or very close match to their company name that they're going to use it at some point. It's also very clear to most that there's no obligation to "use" a domain name immediately.
What exactly is "use" in the context of a domain anyway? In most cases I hear people stating categorically that a domain isn't being used simply because they don't see a website when they go to "www.domain.TLD". However a LOT of people (and organisations) don't use their domains for websites but for other services including, surprise, surprise, email.
As a silly little example check out log.ie:
http://log.ie/ – or http://www.log.ie will take you to a parking page
BUT
If you go to https://b.log.ie you'll find an active website.
Why do I mention all of this? The puma.ie dispute which was recently decided troubles me deeply. So there's a few things here.
The term "puma" is a dictionary term and is also used as part of multiple company names in Ireland and elsewhere. Yes there is a well known brand of sporting goods called Puma, but they aren't the only "show in town" as it were.
Back in 2015 the limited company Puma Transport Ireland Ltd was incorporated and registered with the Irish companies office. In April 2016 the domain name puma.ie was registered by that company and at some point after that a rudimentary holder page was put online.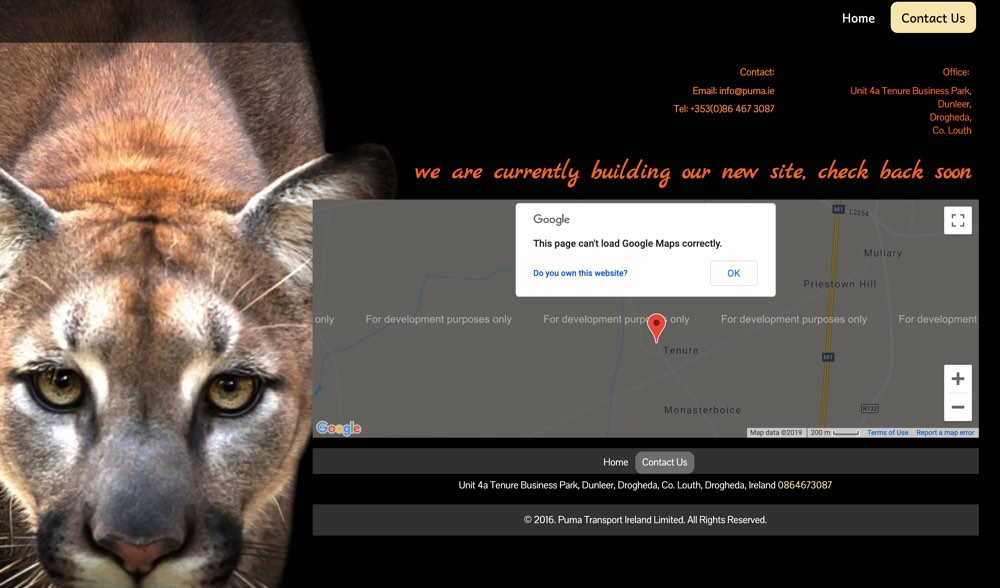 Whois output:
whois puma.ie

% Rights restricted by copyright; http://iedr.ie/index.php/mnudomregs/mnudnssearch/96
% Do not remove this notice

Domain:                  puma.ie
Domain Holder:           PUMA TRANSPORT IRELAND LIMITED
Admin-c:                 AWJ804-IEDR
Tech-c:                  ABG704-IEDR
Account Name:            Letshost.ie
Registrar Abuse Contact: Service not supported currently
Registration Date:       04-April-2016
Renewal Date:            04-April-2020
Holder-type:             NonBillable
Locked status:           NO
Renewal status:          Active
In-zone:                 1
Nserver:                 ns13.dnsireland.com  
Nserver:                 ns14.dnsireland.com  
Now if you have a few minutes to spare why not read the WIPO decision on this case. There are a few elements from the complaint and the decision that give me goosebumps, but not in a good way!
The domain name registrant did not respond to the complaint, which is seen to be almost an admission of wrongdoing – emphasis added:
While the Registrant's website is somewhat basic and has always been in a state of construction, it was open to the Registrant to come forward and argue that it nonetheless constituted demonstrable good faith preparations to use the disputed domain name. Or the Registrant might have provided evidence of other such preparations. But the Registrant has not appeared in this proceeding to make such a case, notwithstanding the Complainant's assertion that the disputed domain name was not registered for the purposes of a genuine business.
Furthermore, the fact that the website has been under construction for such a long period – some three years – without explanation is itself an indicator that the website is not a genuine precursor to a good faith offering of goods or services.
For the above reasons, the Panel finds that the Complainant has established a prima facie case of lack of rights or legitimate interests and there is no rebuttal by the Registrant.
Or how about this gem:
Amongst other things, the Panel would have wanted to know why the Registrant selected a domain name consisting of the word "puma" alone, i.e. without adding the term "transport".
How about the fact that:
the domain was available to register
it is shorter
it is more memorable
Yes in terms of trademark disputes they might have had to defend it, but the fact that the Irish Companies office had no issue with the company name being registered was not even taken into consideration.
And this conclusion is truly bizarre:
the Panel concludes that, on balance, the Registrant registered the disputed domain name in order to target the Complainant's mark in an unfair manner, most likely with a view to selling the disputed domain name to the Complainant for a substantial sum
Where is the evidence of this? While it is possible that somebody would register the domain simply to try and sell it, the likelihood that they would go to the trouble of registering a limited company and file annual accounts for more than 3 years AND NOT attempt to sell the domain name to Puma seems highly unlikely.
It is a terrible pity that the registrant did not file a response, but even with a response the way that this was argued both by the complainant and the panelist should be disturbing to a lot of dispute watchers.