DNS Belgium, which runs both the .be ccTLD as well as the new TLDs .brussels and .vlaanderen, has published their annual report. Unlike most of the other domain name registries DNS Belgium have opted to take a much more interactive approach, so you can play around with the data and interact with it over on the report site.
The trend of recent years was confirmed in 2018. We see a slight drop in new registrations but renewals of the existing domain names are on the rise. This was reflected in growth of slightly less than 1% in 2018 to 1.6 million domain names.

Philip Du Bois, DNS Belgium
Renewal rates across all the TLDs they manage were strong, even if overall growth wasn't.
Some key numbers:
.be had a renewal rate of 86.55%
.brussels had a renewal rate of 87.01%
.vlaanderen had a renewal rate of 86.47%
there were 1,603,508 .be domains at the end of 2018
The .be domain extension is trusted by Belgians, which a previous report from DNS Belgium highlighted, with it holding over 50% of the local market: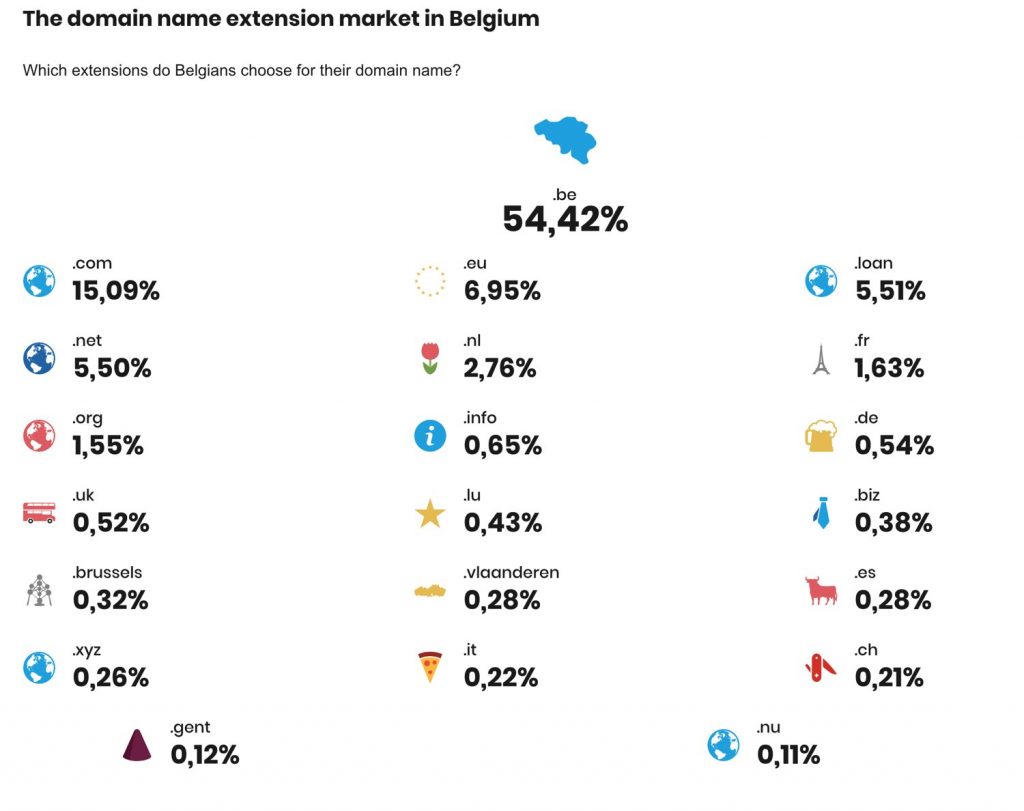 There's some other interesting data points in their report. Some of the data probably isn't that surprising, but overall it paints an interesting picture of who is registering .be domain names and how they are using them.
For example, 74.84% of registrants only have one .be domain name. While it's possible that some of them might have domains in other extensions it's still a very interesting data point.
Another data point is the split between companies and individuals 72.36% of .be domains are registered to businesses of some kind.
Bear in mind, of course, that their previous research shows that most people have no interest in ever registering a domain name.
The full report may be consulted here.