Whois is being deprecated in favour of a more modern technology.
The new solution for handling domain name registration data is called RDAP (Registration Data Access Protocol) and it is designed for machines to read and handle. It's not meant for direct human consumption. While some web browsers might be able to display the RDAP output in a human readable format many can't and won't.
But it's a protocol with standards and rules, so there's nothing to stop people writing software to make it more "human friendly".
As it's 2019 one of the first RDAP clients to hit the market is for mobile devices.
Canadian software consultancy firm Viagénie has launched a mobile RDAP client called "RDAP Browser" which is available for both IoS and Android devices.
The software is very simple. Give it a domain name and if the registry has turned on RDAP then you'll get back the records for the domain in an easy to read format. Here's the output for one of my own domains (the .me ccTLD hasn't enabled RDAP as yet) :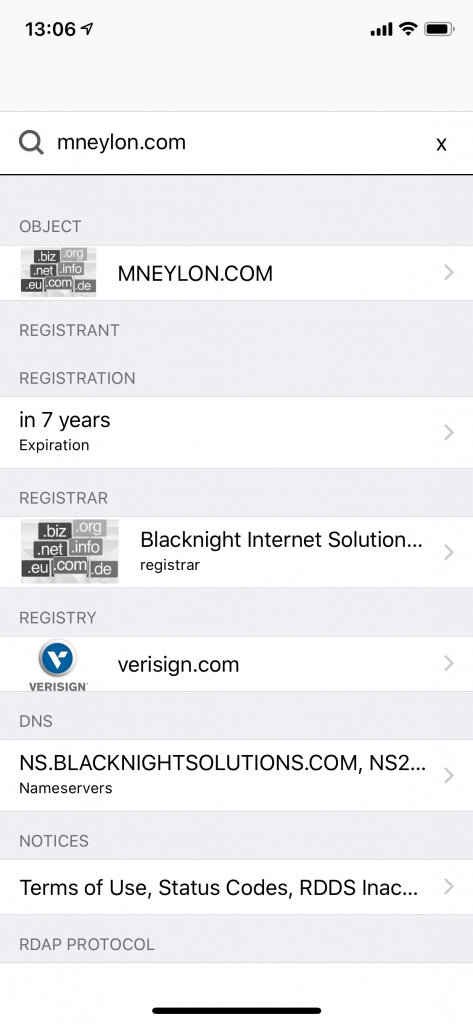 ICANN has mandated that all registries and registrars enable RDAP from 26th August 2019, so all gTLD registries and registrars should have functional RDAP servers up and running by now. ICANN is publishing the list of RDAP end points for registrars on the IANA site and it's clear that while the bigger players are up and running there are still quite a few who either don't have their RDAP up or haven't provided ICANN with the details.
At the moment registrars and registries will be running both their legacy whois servers as well as RDAP, however the plan is to sunset whois completely.