There are always a few scams out there that are aimed at small businesses. Many of them are for "SEO" services where they promise "incredible" results. It's a very good use of the word "incredible" as the claims are completely lacking in credibility.
In the domain name world there have been a variety of scams doing the rounds for years. Remember Domain Registry of America aka Domain Registry of Canada and other names? Or how about the "trademark protection" scams that have been going on for years?
Earlier this year we became aware of a new, European scam. While the sample emails we got were clearly targetting the Irish market there was an odd link to a Dutch entity. On further investigation it became clear that they'd tried the same nasty method in both the Netherlands and Belgium.
Back in January the crowd targetting Irish business were using the domain DNSIreland.org (I'm not going to give them a link!).
As of last week the same crowd are back targetting small businesses in Ireland.
Meet IDS Ireland (idsireland.org), who seem to have an almost identical website to DNSIreland.org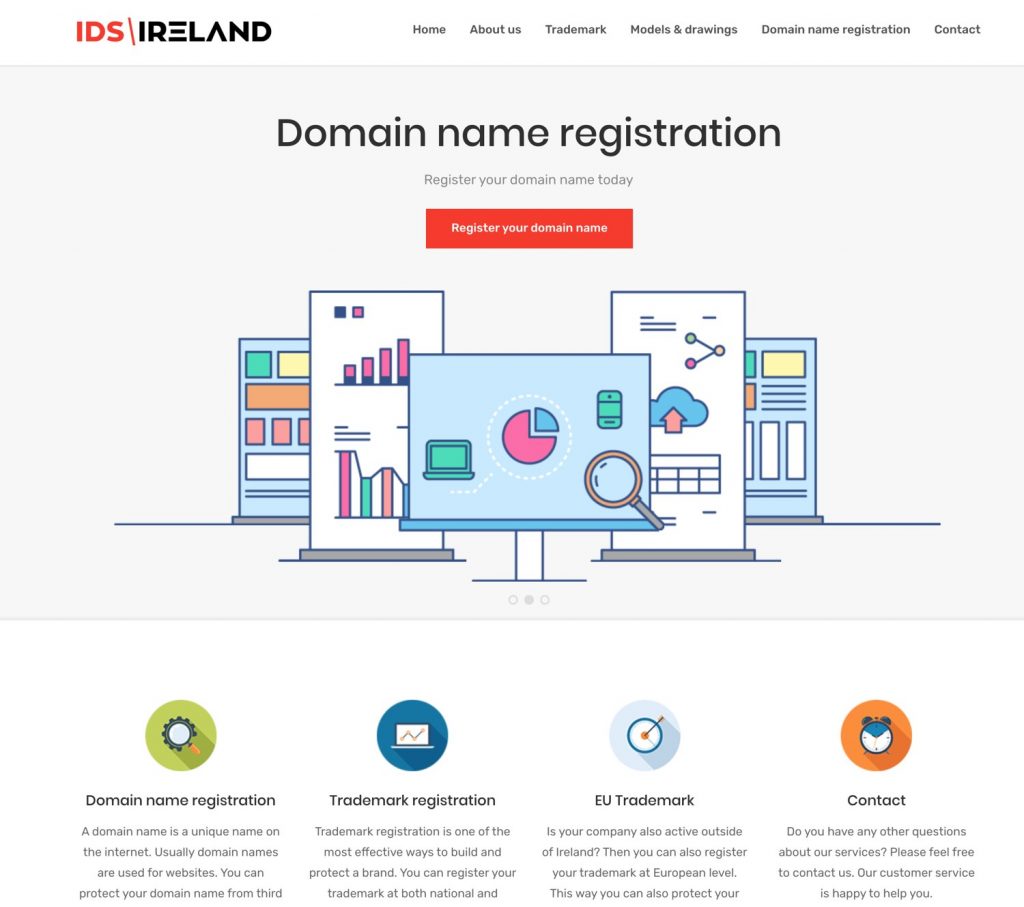 This time round, however, they're calling themselves "IDS Ireland" and claiming that they were founded in 2009. Oddly the Irish companies office has no records of them. They also make a number of other claims that are at best "odd":
IDS Ireland is a member of the Madrid Agreement, the Madrid Protocol and the European Community

That's not how trademarks work.
A trademark application must be submitted to the Intellectual Property Office in Madrid.

The European trademark office is based in Spain, but not in Madrid, but Alicante.
The emails they're sending out are almost identical to those sent by DNSIreland earlier in the year:
Dear Sir/Madam,

One of our customers has applied for the domain name .com. Since you are the owner of .ie, we would like to inform you about this registration request.

If our customer registers this name, this can have serious implications for your company. It may lead to confusion in Google search results because a third party is using the same name. In the worst case, this can even lead to image damage.
 
However, you have the option to register the domain name. As the holder of .ie, you have the first registration option with us. In this way, you will avoid any problems with another company operating under the same name.

Are you interested in this option? Here are all the conditions:

- The costs for this name are 19.95 euros per year. We will register this name for a 10-year period, which means that you pay a one-off fee of 199.50 euros (plus 23% VAT);

- You can cancel this name after one year, and the costs of the remaining years will be paid back into your bank account. After cancellation, we will refund you within 10 working days;

- We need your company name, address and VAT number to complete your registration. We will not accept the third applicant and will register the name for you.
 
This is a non-binding proposal. You are not required to take any action, yet we do recommend that you register this name. This may avoid problems in the near future.

If you have any questions, feel free to send your questions by e-mail. If you should like to have .com please send your company details for your invoice.

Kind regards,

Jake O'Brien
IDS Ireland
www.idsireland.org
There are so many issues with these emails it's hard to know where to begin:
Registering a .ie doesn't give you any rights in a .com and the emails to the holders of the .ie domains are unsolicited aka spam
the price for a one year registration of a .com is higher than normal
The 10 year "registration" isn't a proper registration, as they're offering a full refund after the 1st year.
No legit registrar operates this way
the "company" offering all this doesn't appear to exist
the domains they're using for this campaign were only registered a few days ago
they're making statements about domains and trademarks that are simply untrue
Hopefully not too many small business owners will be duped by this rubbish.
If you want to register a domain name use a reputable company (yes I am biased!)!