I love data and when it's easy to consume I love it even more.
Nominet have been producing a world map with a slight difference for the last few years. Their map displays the countries with their size related to the number of domains in their ccTLD. What that means is that countries that in reality are quite small end up appearing to be quite big, while some quite large countries are reduced down dramatically.
As they explain in their recent blog post:
On our map, the size of the country is relative not to its geographical size, but the number of ccTLD domains currently under management. For yet another year, the tiny island of Tokelau dominates, with over 25 million domains registered. Its popularity is due to .tk domains being available free to all, while no expired domains are ever deleted, allowing the total to continue to build.
Here's what the end result looks like: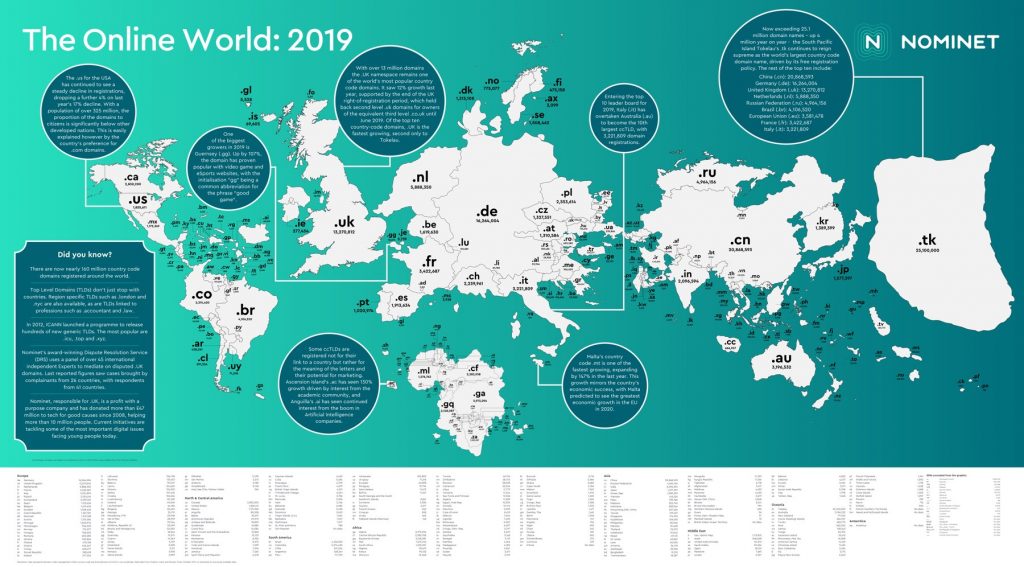 You can download the full map as a PDF here.
There's been some interesting changes over the last year:
.gg (Guernsey) has grown by over 100%
.mt (Malta) is up nearly 150%
.tk now stands at over 25.1 million names. Not surprising as they're free and they never delete them either.
European ccTLDs dominate in terms of overall numbers, but growth is generally stagnant. There are one or two outliers, such as .ie (Ireland) which has grown considerably in the last 2 years due to liberalisation. Outside Europe it is the African ccTLDs that are growing at the strongest rate, with a rate of 8.5% on average.