One of the campaigns that has been working against the sale of PIR and the .org registry under the "Save dot Org" moniker is planning to picket ICANN's headquarters in LA.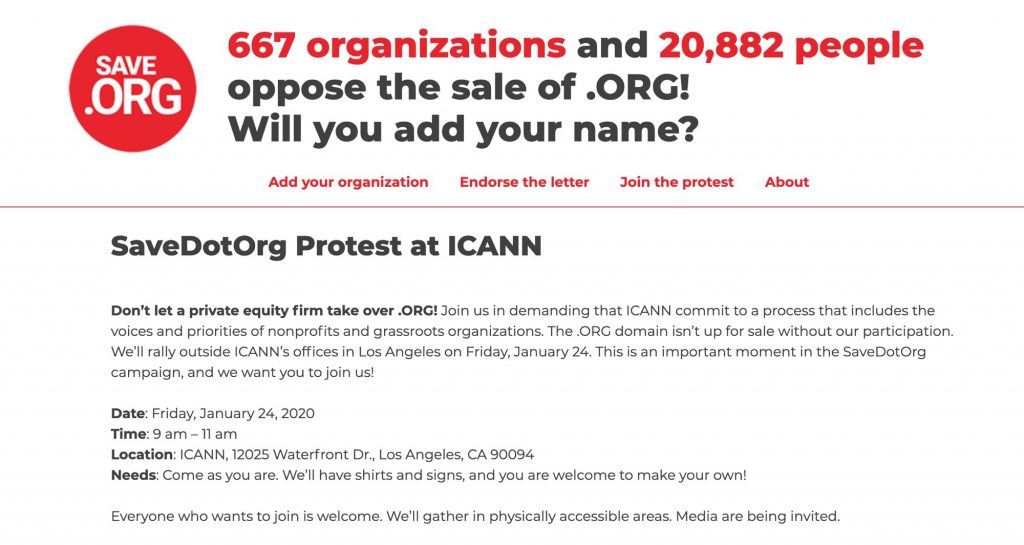 Save Dot Org are planning on picketing the Los Angeles' offices of ICANN on Friday January 24th:
Date: Friday, January 24, 2020
Time: 9 am – 11 am
Location: ICANN, 12025 Waterfront Dr., Los Angeles, CA 90094
Needs: Come as you are. We'll have shirts and signs, and you are welcome to make your own!
More details here.
What the event organiser hope to achieve with this protest is unclear.
Their call to action seems to be to demand somehow that ICANN involve them in the process:
Don't let a private equity firm take over .ORG! Join us in demanding that ICANN commit to a process that includes the voices and priorities of nonprofits and grassroots organizations. The .ORG domain isn't up for sale without our participation.
However that's not how this kind of process works. ICANN cannot "simply" insert itself and 3rd parties into mergers and acquisitions. As ICANN has outlined in several blog posts and letters, they are going to follow their processes. And historically there have been changes of control and ownership of both registries and registrars which have not involved 3rd parties.
So why would ICANN suddenly change this?
Oddly enough I'll be in LA next week, but I probably won't have time to watch this play out.