EURid commissioned a study to get data on how .eu domain names are being used.
That isn't particularly original, as many of the domain name registries have done that over the years using data from a variety of different sources and services. There are several companies that offer services in this space that can give you quite a bit of information about how domains and other identifiers are being used!
This time round they are doing a categorisation project based on a sample of 200k domain names, which is a fairly sizeable chunk of the .eu zone. As of this morning there are:
3,623,050 .eu domain names

1681 in Cyrillic
2743 in Greek (source)
While data is available for the 200k names in the sample EURid went a lot further with nearly 36 thousand and had them manually classified and categorised by industry.
The results are shown in the graphic below: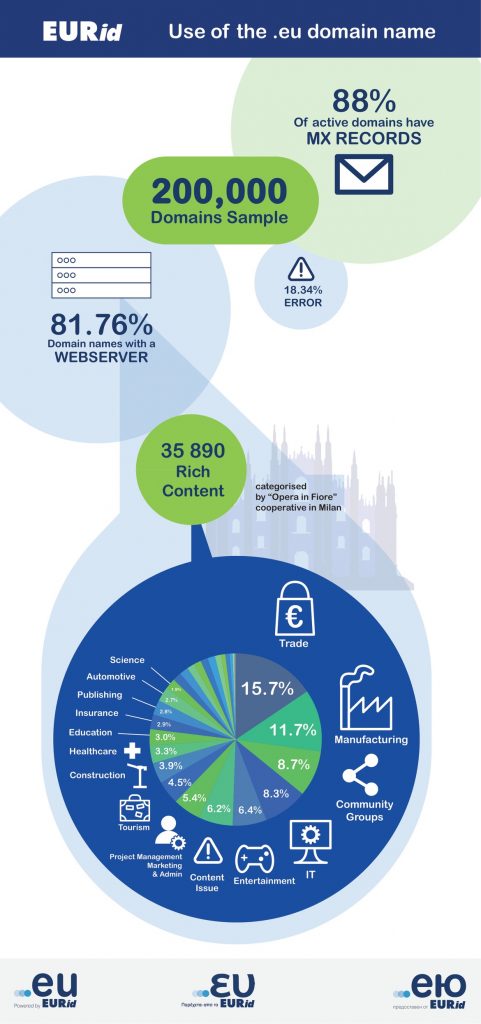 While no sample based analysis will ever be 100% accurate the data shows that a significant proportion of .eu domain names are being used for something:
88% have MX records, so they could be in use for email
81.76% have a web server. While that is obviously a positive, it would also include any domain names that are parked (monetised or not) or with some form of "coming soon" lander page
18.34% threw some kind of error