Image via Wikipedia
Dan Kaminsky's discovery of a nasty bug in DNS rocked the security world in 2008.
It's now 2010, so you would be forgiven for thinking that most DNS servers should have been updated, patched or configured in such a manner as to render the Kaminsky hole null and void.
Unfortunately that is not the case.
Several medium sized DNS providers, which include ISPs, data centre providers and many others, are still operating DNS servers that are vulnerable according to the IANA test
So what is the danger?
The danger is what is called "cache poisoning". In simpler terms, it is possible for a criminal to take advantage of a nameserver's configuration and conduct either a "man in the middle" type attack or simply to redirect all the traffic elsewhere. The number of issues is only limited by the criminal's imagination and technical skill.
Here's but one example using boards.ie (a popular forum in Ireland) :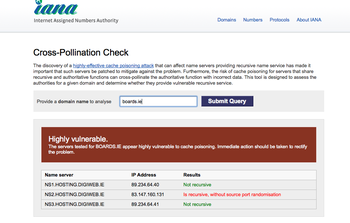 UPDATE: Digiweb have fixed their DNS configuration so the test above will no longer work.