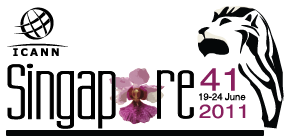 Normally in the weeks prior to an ICANN public meeting there is a buzz of activity as documents need to be submitted to meet the deadlines before the public meeting.
While this has happened as usual and the deadline is still open until Tuesday for the GNSO council meeting on 22nd June, there are currently only 6 comment periods open.
Whether or not new document submissions will push that number up much or not remains to be seen.
The six comment periods currently open are:
Second Milestone report from the JAS group (Joint Applicant Support). The group has been working on ways to assist applicants for new TLDs who come from developing economies.
WHOIS Policy Review Team – discussion paper. The group wants community feedback on issues they've identified.
UDRP – this is an interesting one. While some people in the ICANN community would like to see some form of review of UDRP there has been resistance to this from WIPO and, to some extent, ICANN staff.
New GNSO Policy Development Process – policy development isn't exactly "sexy", but how it's conducted is important. The team have been working on ways to improve the entire process.
FY12 Travel Support Guidelines – some stakeholders' travel is funded by ICANN. ICANN is seeking public input on the guidelines. Money's involved so there could be some interesting comments
Draft FY12 Operating Plan and Budget – this one is the "biggie". ICANN's budget is very very big. With a total budget in 8 figures this document lays out how the organisation plans to spend the cash. Expect to see this topic come up in the public forum in Singapore.
Who gets to submit comments to ICANN?
Anyone who wants to!
You don't need to be an "insider" or have a "vested interest".
Related articles