The job vacancy may not have been announced yet, but GoDaddy will be looking for a new CEO.
Warren Adelman was officially made CEO of GoDaddy back in December of last year. Andrew Allemann of DomainNameWire was one of the first to break the story yesterday and also managed to get GoDaddy's founder, Bob Parsons, to make a few comments on the record.
Adelman has been with GoDaddy for the last 10 years, so "moving on" now that the company is so well established isn't that surprising.
But what's surprising and disturbing about the story is the quality of the coverage in some quarters.
Techcrunch ran the story last night claiming that Adelman had only been in the job for less than two months: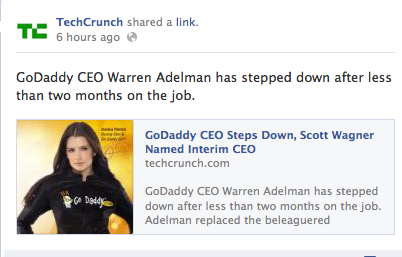 They updated the story at some point last night, but there's no sign of an apology or anything else, so thousands of Techcrunch readers will have been fed false information!
So much for the quality of journalism ..
In any case .. best of luck to Warren Adelman for the future .. so now to see who will be his replacement ..