If you've been following the ICANN new TLD program over the last couple of years you'll probably be aware of some of the applications and the applicants.
However in the case of the competing bids for the .africa string the competitors, or at least one of them, has brought more "colour" to the proceedings than most of the other applicants combined.
DotConnectAfrica (DCA) have been the source of several rather interesting "interludes" in the process.
Most recently they got into a spat with Kevin Murphy over on DomainIncite.
Over the weekend, however, they cranked things up another notch (considering they've already tried to involve various parts of the US government even this is impressive in itself).
In a letter sent to ICANN entitled "An Official Complaint to Report a Possible Conspiracy of Traducement & Campaign of Objection against the .Africa new gTLD Application submitted by DotConnectAfrica Trust " DCA makes a number of claims against a number of people and entities, both named and unnamed. You can download it here: Letter to ICANN to lodge complaint of conspiracy againstDot
One of the entities named is the Namibian ccTLD registry and it's pretty clear from the response they sent earlier this evening that they weren't impressed with the characterisation in the letter:

Dear Mr Chehade,

I write to you as Director of the Namibian Network Information Center (Pty) Limited, (NA-NiC), with regards to a letter on behalf of DotConnectAfrica Trust dated 2013-03-22. The letter has the subject line "Letter to ICANN to lodge complaint regarding possible conspiracy against DCA's .Africa new gTLD application" and is signed by Ms Sophia Bekele.

On page 7 of the letter Ms Bekele states, inter alia:

"For example, the Namibian ccTLD is run by a single
individual, Dr.  Eberhard Lisse, who has provided UniForum
with an endorsement.  Everyone would agree with DCA's
position that such a specious 'endorsement' from a
'one-man show ccTLD operation' hardly qualifies as an
official endorsement received from the Namibian Government."

For the record, the ccTLD Manager of .NA is and has been for many years, NA-NiC and not Dr Lisse. .NA administration is hardly a "one-man show." Ms Bekele knows this very well, as she served on a panel together with Dr Lisse at the recent AfrICANN MIGWorks meeting held recently in Addis Ababa where Na-NiC operations as well as Dr Lisse's role were discussed in depth.

Neither NA-NiC nor its Directors have endorsed *any* currently pending gTLD application. This position particularly applies to the two .AFRICA applications. The only correspondence in this regard of which we are aware is enclosed. The Namibian Government has expressed its support for the African Union position on the matter of the .AFRICA applications. This determination was made independently from NA-NiC.

Clearly the content of MS Bekele's statements about .NA are incorrect. The facts of the matter were available to the lady, yet she did not rely upon them. This is disconcerting particularly with regard to the array accusations made throughout the letter. In the spirit of full disclosure I am aware of Dr Lisse's discovery of Ms Bekele using at least one false identity on at least one mailing list (the AFRICANN mailing list) while trying to garner support for her .AFRICA gTLD Application. We discussed the matter internally, and supported Dr Lisse in his efforts to unmask this falsity and to explain to Ms Bekele that her doing so may be illegal in some jurisdictions. Perhaps there is a mix of agendas driving the above statements about .NA administration.

Na-NiC welcomes the results from the gTLD evaluation process. Should you have additional queries on this matter please feel free to contact me. We look forward to further constructive engagement with ICANN and other stakeholders.

Best,

Dr Ben Fuller
Director
Namibian Network Information Centre (Pty) Ltd
And here's the letter which he referenced: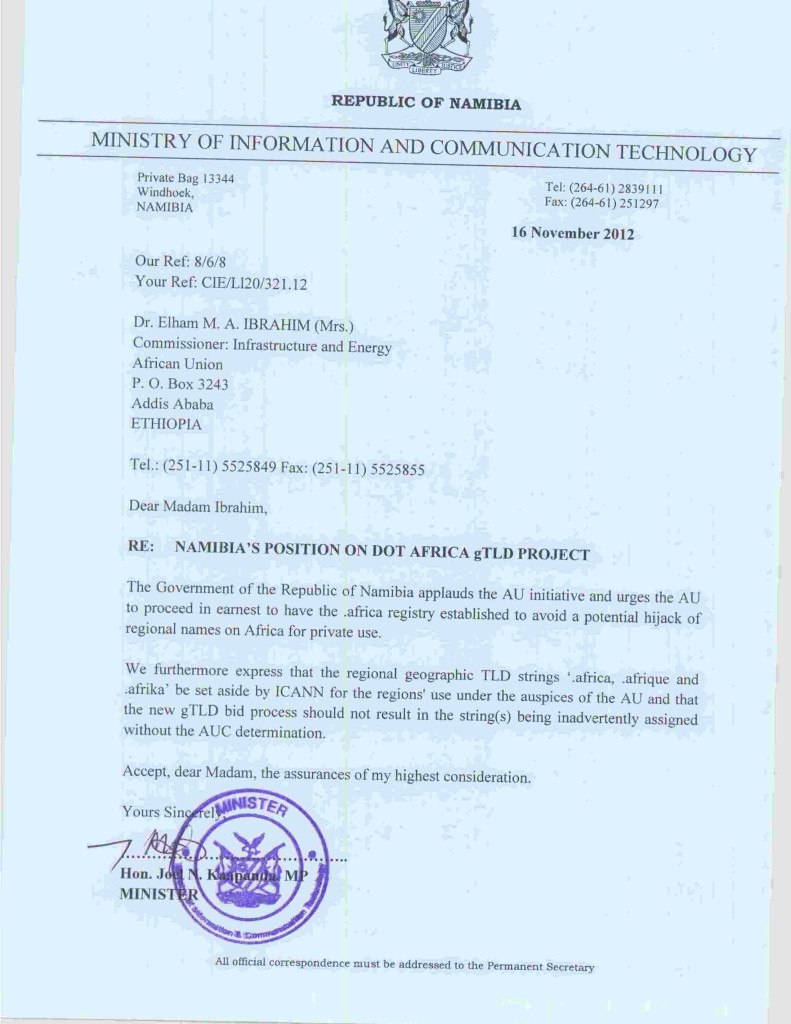 And some people think the domain industry is boring!
Related articles